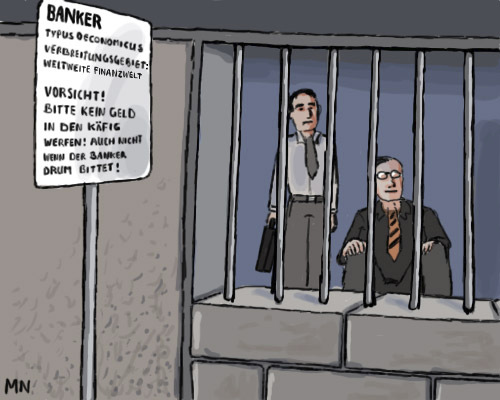 4256
Typus Oeconomicus

4
Applause

von
flintstone73
am 25. September 2009
Und hier eine wahrhaft visionäre Vision der Gedankenfeuer-Redaktion, die zur Zeit leider noch nicht Realität werden darf, da der Karren namens Weltwirtschaft erst noch in den Dreck gefahren werden muss.

English Translate:

And here we have a really fantastic Vision of our dear Gedankenfeuer-Staff. Which unfortunately couldn't become Reality so far, as there's still a World Economy who must be dragged into the mud.

Sign Translate: "Banker - Typus Economicus - Populated Area: Financial World - Attention! Please not throw Money into the cage, even the banker is please you to do!
bankereconomyoekonomiekaefiggeldmoneywirtschaftzoogittercage