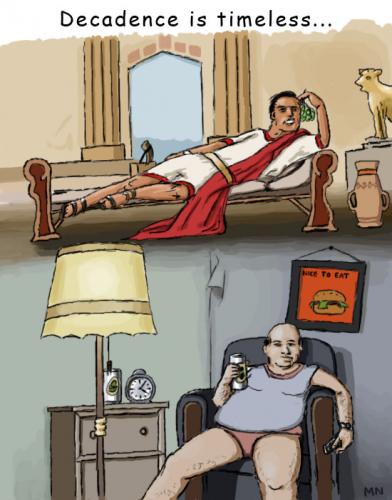 5970
Decadence is timeless

von
flintstone73
am 03. September 2009
Quizfrage: Wo ist der Unterschied zwischen oben und unten? - Richtig: Heutzutage kann jeder Imperator vor'm heimischen PC oder Fernseher spielen. Zumindest für den Abend. Vom realen Imperator, sprich Arbeitgeber, Sklaven und Knechten lassen kann man sich dann wieder tagsüber auffer Arbeit ;)

English Translate:

The big question: Where in hell is the difference between top and above in this picture?

Alright: Nowadays everyone could play emperor before PC or TV at evening.

Anyhow on the following day your real emperor, known as employer will takeover that job.
decadencedekadenzromfernsehensaufenimperatoremperorunterhoseabhaengenlazyness