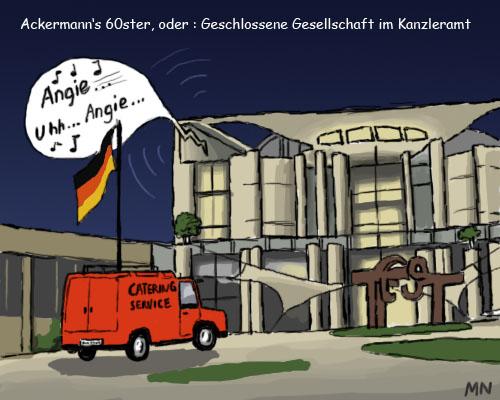 5118
Zu Gast Bei Freunden

1
Applause

von
flintstone73
am 26. August 2009
Mir scheint es manchmal so, das unsere "Elite" eigentlich nur austesten will, wieviel Blödsinn sie noch machen darf, bis es mal wirklich zu einem politischen Erdrutsch oder sowas kommen wird.

Aber meine Hoffnungen diesbezüglich sind nicht groß, und schon gar nicht bin ich darauf Scharf, anschließend womöglich wieder von einem Verrückten regiert zu werden, der Amerika und Russland gleichzeitig den Krieg erklären wird.

Da sind mir dann fast sogar die 20% Rendite Ackermänner lieber. Für die muss man wenigstens nicht in den Krieg ziehen. (Naja, noch nicht)

English:

Sometimes it seems to me, our so called "Elite" constantly try how much bullshit they could do, until a political earthquake or similar occur.

But my hopes in this direction aren't great, especially if the result may lead into a new Mad-Leadership. Represented by a person declaring war to both America and Russia in one turn.

In this case i even prefer the 20% return made by a Josef Ackermann. At least we doesn't must join a war for him. (Well, at the moment)

Text-Translate: "60th birthday of J. Ackermann. Coterie at the Chancellors Council.
ackermannmerkelkanzleramtchancellorpartysausegeburtstagbirthdaysteuergeldercatering