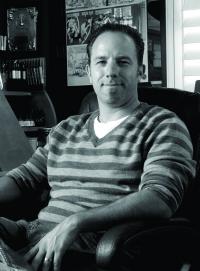 stephen silver
"Follow your passion, be persistent, and live with enthusiasm"
simi valley, Vereinigte Staaten von Amerika
dabei seit October 21, 2010
www.silvertoons.com
143.952
Views
44
Kommentare
21
favorisiert
Über meine Arbeit
Name
stephen silver
Geburtstag
1972-08-30
Ausbildung
self taught
Stil
mixed media
Werkzeuge
hand drawn and photoshop
Einflüsse
way to many
Lieblingscharakter
Kim Possible
Über mich
Stephen Silver was born in London, England on August 30th 1972. Aspiring to be a professional artist his whole life and knowing drawing would be his vocation, Silver got his professional start in 1992 drawing caricatures in amusement parks. In 1993 he went on to establish his own illustration company called Silvertoons. By 1997 Silver was hired by Warner Bros. Television Animation as a character designer, and has been working in the animation industry ever since. He has worked as Character Designer and Supervisor for Disney Television Animation, Sony Feature Animation and Nickelodeon Animation, designing characters such as "Kim Possible", "Danny Phantom" and Kevin Smith's "Clerks" the animated series, to name a few. Silver is the author and artist of five self-published books on the art of sketching, caricature and life drawing. In addition to working freelance full time, he also teaches an online character design course at www.schoolism.com, In 2000 he received the Golden Nosey award from the National Caricaturist Network for caricaturist of the year. In 2007 he was awarded the National Cartoonists Society's television animation award for the designs on Disney's Kim Possible. Silver names three treasures to success in life that give him what it takes to keep on drawing: passion, desire and determination.