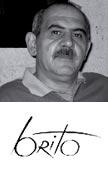 Brito
São Paulo, Brasilien
dabei seit July 09, 2008
fotolog.terra.com.br/sgbr...
351.956
Views
127
Kommentare
75
favorisiert
Über meine Arbeit
Name
Sérgio Gonçalves Brito
Geburtstag
1955-09-23
Über mich
Born in São Paulo on September 23rd, 1955. He graduated in the São Paulo Fine Arts College and in the Nobel Institute of Technology. Contests: 1st Place Lyons Club (Jornal Trophy) 3rd prize "pinte o Hobby", Ford. 1st Prize Sambra Contest. 1st Prize in the contest of the newspaper "Folha de São Paulo" Caricature. Honorable Mention in the 12th International Salon of Drawings for the Press and was selected in the FIHQ, Pernambuco.