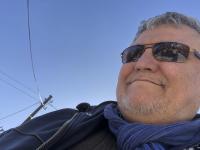 firuzkutal
"peace"
Oslo,
dabei seit January 16, 2008
841.442
Views
601
Kommentare
69
favorisiert
Über meine Arbeit
Name
Firuz Kutal
Geburtstag
1957-06-08
Ausbildung
Oslo National Academy of the Arts, graphic designer and illustration branch
Stil
Acrylic, pen and ink, color pencil and digital
Werkzeuge
Pen and ink, pencil, brush, Macintosh
Einflüsse
Bruegel Pieter, Bosch,Ungerer
Über mich
Educated with a BS degree from Bosphorus University as both Industrial Engineer and Mathematician. Worked as political cartoonist in some newspapers, after graduation moved to Norway, studied in Oslo National Collage of Apply Art and graduated with MA degree after 5 years education as Graphic Designer and Illustrator. Works as professional freelancer since 1990. Created comic-strips and animations as well as cartoons and illustrations.
Portfolios

Latin America (1)
Kontakte von firuzkutal
(125)