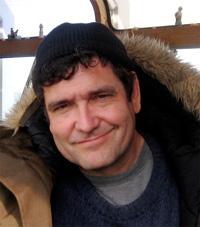 Art Holland
"I am here to defend the right to offend (Hirsi Ali) We are red, we are white, we are Danish Dynamite!"
Berlin, Deutschland
dabei seit November 15, 2007
www.formblitz.de
41.923
Views
16
Kommentare
4
favorisiert
Über meine Arbeit
Name
Art Holland
Geburtstag
1955-01-20
Ausbildung
Dipl. Pol. (Otto-Suhr"bier"-Institut)
Stil
spätmanieristische Zeichengotik (neue Kreuzberger Schule)
Werkzeuge
Gruppe 47
Einflüsse
keine
Lieblingscharakter
Kurt Beck
Über mich
Meine Wege sind meist verschlungen. Sehr oft stand ich an Gabelungen, die mir eine neue Richtung wiesen - und wusste nicht wohin. Da durchzuckte mich die Erkenntnis wie ein Blitz: Der Wegweiser muss den Weg nicht gehen. Und so zog ich fröhlich weiter.