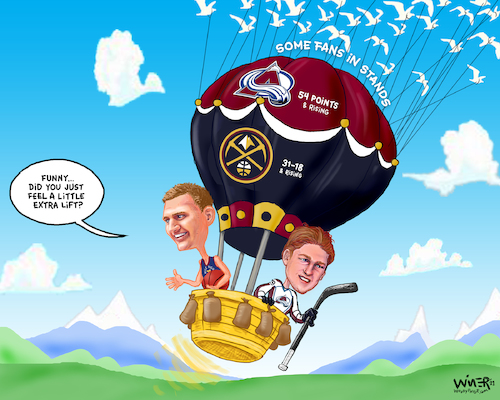 Lift for Nuggets and Avalanche
#381425 / 1813 mal angesehen
Recent cartoon for WoodyPaige.com, a leading online platform for sports commentary around the US and the world.

The hometown Colorado Avalanche and Denver Nuggets have found their footing at about the same time and are shining as potential favorites in their respective leagues. The Avalanche with a league-leading 54 points, and the Nuggets in a strong fourth place position in the West.

Staying healthy hasn't hurt the Avalanche, who's collection of talent is gelling and shining in a way that hasn't been seen in years in the Mile High City. The Nuggets have been at times outstanding this year, while mediocrity occasionally sets in. A tremendous trade that brought Aaron Gordon to town lands perhaps the perfect piece as an athletic, physical player who can score and defend.

So the pieces are in place for as good a playoff drive as either team has seen in many seasons. And one more benefit recently provided a lift for these teams: The opportunity to have fans in seats to deliver a bit more home ice/court advantage.

Twenty-two percent of Ball Arena capacity, or 4,055 fans, have added some juice to the home games and may have helped the Nuggets climb out of an 18-point hole against the Orlando Magic on April 4. After the first game with fans back (a win against the 76ers), Jamal Murray had this to say: "It's amazing to have fans back. The energy they bring. Before, when there was no one in the arena, it's just, I swear to you guys, it's just like a practice."

Keeping the numbers limited to maintain separation is a good thing indoors. But it's great to finally recreate an atmosphere where the hometown teams can continue to flourish.
Sport » Ballsport Wintersport Andere Sportarten
sportsunitedstatesicehockeybasketballnuggetsavalanchejokicmackinnonballoonbirdsstandingsfanattendancecovidkarlwimer