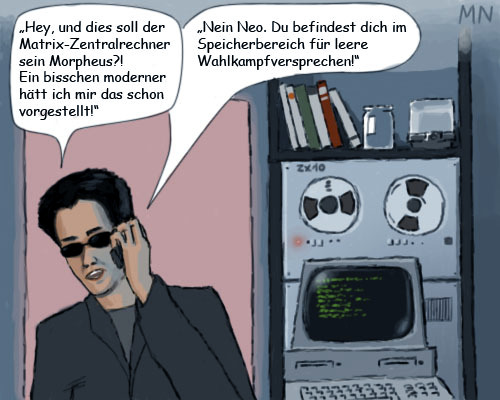 5689
Im Matrix-Rechenzentrum

1
Applause

von
flintstone73
am 20. September 2009
Endlich ist es Morpheus, Neo und deren Team nach langer akribischer Vorbereitung
gelungen in das Rechenzentrum, also das Herz der Matrix vorzudringen. Nunja, wie
in diesem Bild zu sehen, erst einmal nur fast! :-)

English Translate:

Finally after long and painstaking preparations, Morpheus, Neo and their Team managed to enter the Matrix-Data Center. The heart of the Matrix. Well, not entirely successfull as you can see on the picture to the left! :-)

Bubbletext-Translate: Neo: "Hey, and this should be the Matrix-Central-Processer Morpheus? I just imagined me that a bit more modern!"

Morpheus: "No Neo. You're location is the Data-Storage of empty election campaign promises!"
matrixwahlkampfelectionsrechenzentrumdatastorageneomorpheuscomputerstreamer