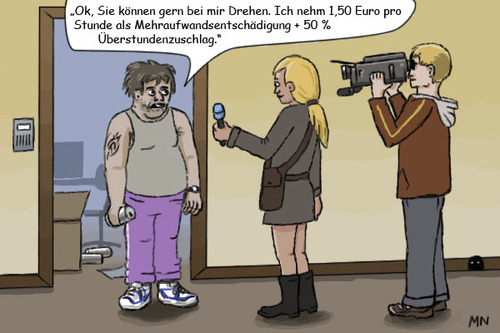 5506
Hartz-IV-TV

1
Applause

von
flintstone73
am 24. Februar 2010
For all non German residents...

"Hartz-IV" is our term for our social benefits, and lately lead to loads of Discussions in and around the political landscape.

Some unholy years ago TV Shows start to make Reality-TV, and meanwhile for a bit more attraction, they more and more showing the so called underclass.

It seems that a very own business for unemployed people was born, and that's the reason i dedicate them with this cartoon.

Bubbletext-Translate: "Ok, you could film at my place. I take 1,50 Euro per hour as additional expenses + 50% overtime premium"
hartztvfernsehenunderclassunterschichtprekariatinterviewreality