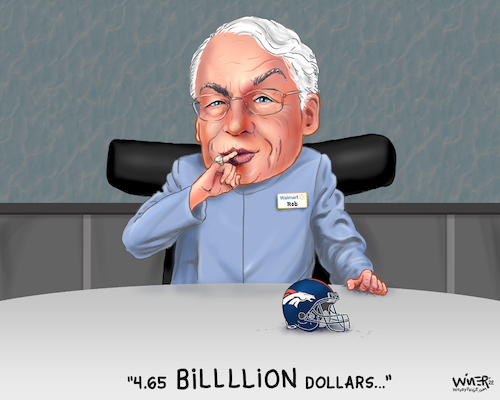 Denver Broncos Sale to Dr Evil
#407477 / 439 mal angesehen
Latest for WoodyPaige.com, a leading online platform for sports commentary.
The much needed sale of the Denver Broncos finally happened. It was hard not to connect the past several years of struggle for the proud franchise with Pat Bowlen's decline then passing, as his various family members fought for control.
The sale had a massive $4.65 billion price tag: the most money paid for a U.S. sports franchise, and only a little behind the $5.3 billion sale of Chelsea Football Club.
It's a stunning amount of money, the kind of figure you might expect a movie villain to throw around.
Rob Walton, of the Wal-Mart family, headed a successful consortium to make the purchase. Plenty of other strong individuals in the group and possibly Peyton Manning also finding a role in the new management structure should provide the start of an interesting new chapter for the Mile High football franchise. And all that new capital can't hurt.
Meanwhile, the Bowlens can head off into the sunset after nearly 40 years and 3 Super Bowls trophies, benefiting from a mountain of cash that grew from a $78 million investment back in 1984.
Sport » Fußball Ballsport Andere Sportarten
sportscartoonkarlwimerkarlwimerdenverbroncosusafootballnfldrevilwalmartrobwaltonfranchisesale