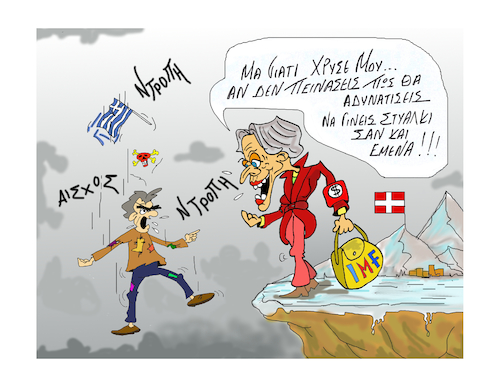 1096
Christine Lagarde Davos

1
Applause

von
vasilis dagres
am 31. Januar 2018
" But why complain my dear …..
If you don't starve how will you be able to loose weight and become like me and have a great figure.'''

Η Κρίστιν Λαγκαρντ πρόεδρος του διεθνές νομισματικού ταμείου , στο πλαίσιο του οικονομικού φόρουμ που έγινε στο Νταβός , σε συνάντηση με τον Έλληνα Πρωθυπουργό , και σε συνέντευξη τύπου είπε 'ότι οι Έλληνες έπαιρναν μεγάλες συντάξεις για αυτό θα πρέπει να παρθούν και άλλα μέτρα, και άλλα μνημόνια .
Αλήθεια αυτή η κυρία με πόσα θα μπορούσε να ζήσει , έστω και για μια μέρα.

President of IMF Christine Lagarde during Davos economic forum proceedings press conference and after a meeting with Greek prime minister stated that "since Greek are collecting high pensions still, this fact alone justifies additional austerity measures".

Really how much money are needed for this lady to get pass a day in her life ? Surely much more.
Politik » Innenpolitik Wahlen Steuern Rente Andere Demokratie