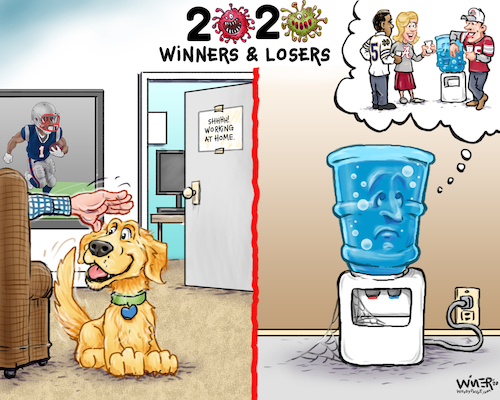 563
2020 Winners and Losers

2
Applause

von
karlwimer
am 04. Januar 2021
2020 Winners & Losers

As bad as 2020 was, there were certainly those who came out of it as winners. Man's best friend got a LOT more quality time with their owners, as the workplace moved into the home. And without the option of watching sports live or at the favorite watering hole, the home TV got a heavy workout.

And high on the list of losers was the company watercooler (a traditional element of the US workplace). The long time popular meeting place for talking all things sports (and until recently, politics), the watercooler was a truly lonely entity this past year.

Makes me wonder: has the overall fall-off in sports viewing been a result of our lost connectedness this past year? Without the drama and suspense that is driven by weekly watercooler conversations, do we care a little less about the big game on Saturday or Sunday? Do we thirst to watch the outcome of a contest to prove wrong that guy in accounting whose opinions never have a foot in reality? Are the little side bets about big rivalry games we make with our buddies over beers fewer and farther in between? And is it harder to collect those bets, because we won't see that guy for another month?

Here's to a fresh, new year, where things like the watercooler are reinserted into our lives.
Medien & Kultur » TV & Rundfunk Gesellschaft Familie & Jugend Traditionen Freizeit Lifestyle Urlaub & Reisen