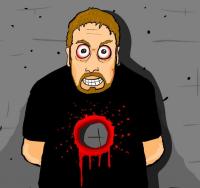 undertoon
"The truth s the worst insult "
pula, Kroatien
dabei seit March 17, 2010
www.youtube.com/user/unde...
37.003
Views
4
Kommentare
1
favorisiert
undertoons Galerie
(11)


Über meine Arbeit
Name
Undertoon
Geburtstag
1978-05-01
Über mich


I am a 34 years old jerk and I am doing this just for fun.For creating my cartoons I use Flash MX.I also do the animation if you are interested you can check out my youtube channel. . .Thats it PEACE!!!