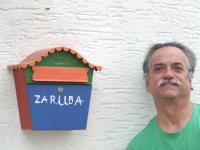 skätch-up
"sketch, draw and paint"
stuttgART, Deutschland
dabei seit December 14, 2010
zaruba-stuttgART-art-is-t...
1.069.206
Views
49
Kommentare
2
favorisiert
Über meine Arbeit
Name
Günther Z.
Geburtstag
1956-00-00
Ausbildung
self,
Stil
sketch
Werkzeuge
colorpencils and black fine liner
Einflüsse
Möbius Haitzinger, M,C. Escher, Kandinsky. Schiele; Boris Vallero, Frank Frazetta
Lieblingscharakter
EL GATO
Über mich


What a lot of possibilities are there if you have a piece of paper and some pencills, or any colores....