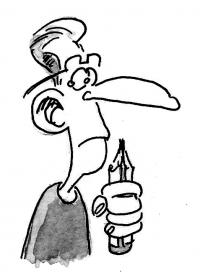 jobi_
"It's not the ink, it's the think what makes a cartoon great (Bob Mankoff)"
Madrid, Spanien
dabei seit March 04, 2008
josembielza.blogspot.com
397.755
Views
46
Kommentare
4
favorisiert
Über meine Arbeit
Name
Jose
Geburtstag
1971-01-14
Ausbildung
Self, isn't it clear enough? Watch my doodles!
Stil
Do I have a technique?
Werkzeuge
Dip pen, markers, pencil, brush, fountain pen
Einflüsse
Ibáñez, Maëster, Watterson, Norman Thelwell, Quino
Lieblingscharakter
Calvin & Hobbes, Mafalda, Liberty Meadows
Über mich


I'm a spanish amateur cartoonist. 4 times a year I publish a humor series on a magazine.