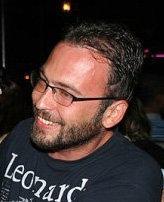 ismailozmen
"Music and drawing"
Istanbul, Türkei
dabei seit January 20, 2011
77.394
Views
13
Kommentare
0
favorisiert
Über meine Arbeit
Name
Ismail Bahadir Ozmen
Geburtstag
1976-04-22
Über mich


In1976 born in Canakkale. Primary and secondary education has studied in Bandirma. The first cartoon of an amateur writer-illustrator team should dip 'is Turkey's first humor magazine districts' characteristics of the "Orkinos" humor magazine, was published in 1986. In the later years of study at Bursa Ahmet Hamdi Gökbayrak Anatolian High School in the year of 1991 Yeşilay Derneği Poster Contest, Cemal Nadir Güler High School Cartoon Contest 1992 took first price. On university education in Istanbul where Girgir, Panik, Çafçaf, Zipir, especially the dozens of professional and amateur comic was drawn. Cartoon work still continues in various magazines and also in Kadikoy is an English teacher in a primary school.