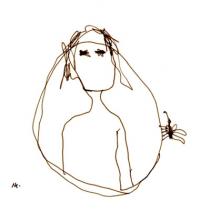 flyingfly
"Flying Fly - it lives in my heart and sometimes flies out due to the spaca shortage."
Berlin, Deutschland
dabei seit May 19, 2008
www.flyingfly.de
133.976
Views
14
Kommentare
13
favorisiert
Über meine Arbeit
Name
Lina Khesina
Geburtstag
1983-03-16
Ausbildung
University of Applied Sciences Potsdam, Germany. University of Applied Sciences Graz, Austria
Stil
Illustration, Drawing, Color, b/w
Über mich


Lina Khesina was born (1983) and grew up in Russia. Lives, studies an works in Germany since 1999.