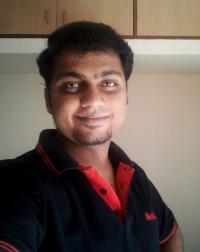 bharatkv
"Never Give up...!!"
Bangalore, Indien
dabei seit October 05, 2009
bkv.brdcreation.com
77.675
Views
19
Kommentare
0
favorisiert
Über meine Arbeit
Name
Bharat KV
Geburtstag
0000-10-05
Ausbildung
Engineering
Stil
Varied...love experimenting with Charcoal, Pastels, Poster colors, water colors, and ofcourse digital ones
Einflüsse
Frank Miller, Ravi Varma, GnanaSekhar (My Guru)
Lieblingscharakter
Johnny Bravo, Mickey, Spidey
Über mich


I am Bharat KV, Interaction Designer by profession and an artist by passion, located in Bangalore, India. I work on web based applications (both static and interactive), print media & flash based animation. And sometimes I get the privilege of being away from the computer world, and that's when i get into my sketching world. Portraits and caricatures have been favourite. But I try out anything thats creative and challenges my brains...