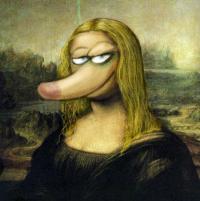 Vanmol
"To comfort the afflicted and to afflict the comfortable."
Denderleeuw, Belgien
dabei seit July 06, 2008
www.vanmol.net
177.000
Views
52
Kommentare
12
favorisiert
Über meine Arbeit
Name
Erwin Vanmol
Geburtstag
1967-02-18
Ausbildung
Artschool ( painting ) Ghent, Brussels, Alost
Stil
Digital
Werkzeuge
Wacom 21UX, Mac Pro, PS + Painter
Einflüsse
James Gillray, Steve Bell, Dan Collins
Lieblingscharakter
George Bush
Über mich


I mostly work for Belgian and Dutch press. Main occupation: Political cartoons for Knack Magazine Boobie-cartoons for Ché mensmagazine.