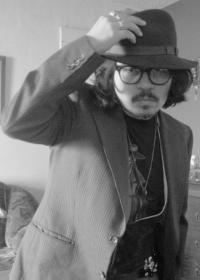 Jo-Rel
"Enough safe and sane, it's time for dumb and dangerous!!"
East Los Angeles, Vereinigte Staaten von Amerika
dabei seit November 04, 2008
www.myspace.com/dirtbagto...
311.821
Views
41
Kommentare
2
favorisiert
Über meine Arbeit
Name
Joe Flores
Ausbildung
Associate of Science
Stil
Draw
Werkzeuge
Pancil, pan, and computer
Einflüsse
J. Scott Campbell, Mort Drucker, Chuck Jones, MAD!, and too many others.
Lieblingscharakter
Simpsons, Spongebob, fairly oddparents and anything from the 1980's
Über mich
I am Joe R Flores creator of an up and coming cartoon company named DIRTBAGTOONS! I have been drawing since I was 5 years old and my inspiration was the original Star Wars movie. My Granny used to draw stick figures and I was never satisfied with them so I put clothes on them and that was the first step to my artistic discovery. The second step is my Dad, he took me to see Star Wars when I was 5 years old in the local movie theater (unfortunately they were showing a double feature and the first film was some Kung-Fu one and it was bloody so I wanted to leave the theater but my Dad, stubborn as he is, said "Hell No you wanted to see Star Wars now you stay" (in Spanish of course) it's a good thing my dad kept me in the theater because when I came out of there all I wanted to do was draw the characters and since then I have been drawing like crazy. So I have to say my Granny and my Dad are the reason the art is in my heart, Thank you both. I have made 4 cartoon shorts and I am currently working on my 5th cartoon which I am hoping will kick some Ass. This new cartoon I am working on will deal with zombies in a homage to George Romero and Tom Savini. My plan is to have my own Cartoon series on TV. But in the meantime I have a couple of websites up dirtbagtoons.com and dirtbagtoons on myspace and as soon as I finish my cartoons I will post them up there.