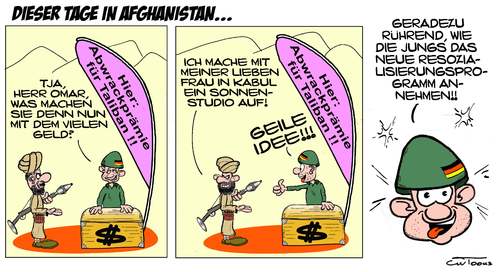 2870
Neulich in Afghanistan...

4
Applause

von
cwtoons
am 03. Februar 2010
Auf bescheuerte Ideen der Politik ist Verlass!
Übersetzungen
(1)
hinzufügen
englisch von Alan
'Recently in Afghanistan…
Sign: Here: Cash for Clunkers for Taliban!!
So, Mr. Ohmar, what are you going to do with all that money?
The missus and I are going to open a tanning salon in Kabul.
COOL IDEA!
How heart-warming, how those guys accept the new resocialisation program!'

The Golfswing

---

Die Kölner U-...